Driveway Markers & Snow Stakes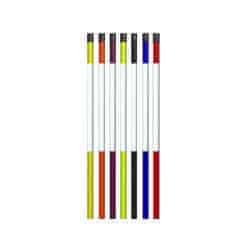 Driveway Markers for Snow Plowing are an essential detail that goes a long way to help snow removal companies handle jobs more efficiently and reduce accidental damage on job sites. We carry a variety of colors of driveway markers and snow stakes to allow for color-coded marking of different hazards beyond just marking property boundaries. We recommend marking speed bumps, storm drain areas, fire extinguishers and other potential problem areas. Our driveway markers feature:
A variety of driveway marker colors for obstacle differentiation/identification while snow plowing.
These are the snow stakes we use in our own snow plowing business for faster & safer plowing. Order in bulk for great rates.
5/16″ in diameter snow stakes which is essential for durability and longevity.
Super poly cap to protect the driveway marker during installation.
Reflective tape on the driveway marker for ultimate visibility.
Arrow tipped at the bottom to easily pierce the ground with the snow stake.
Driveway Markers for Snow Plowing Save Time & Prevent Damage
Contact Us About Driveway Markers for Snow Plowing:
---