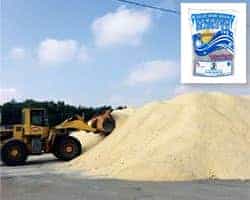 Rock Salt MSDS
Rock Salt remains the most popular agent for removing snow. Rock Salt does a great job of eliminated those snowfalls of less than two inches where plowing is not cost effective. While many blends are great for ice, especially in colder temperatures, they don't perform a whole lot better against an inch of snow in temperatures above 15°F.
Our rock salt is treated with YPS (Yellow Prussiate of Soda or Sodium Ferrocyanide) to prevent caking and clumping, allowing for continuous flow in your salt spreaders. YPS is friendly enough to be used as an anti-caking agent in food, and it does a great job keeping your salt from clumping together. If you have ever had to empty a spreader because of clumping, you know how valuable YPS is when mixed with your salt.
Rock salt requires no cleanup in the spring (unlike sand) and it should not hurt surrounding vegetation as long as you use it in moderate amounts (please don't over-salt).
Most of our rock salt is sold in bulk, but you can also buy it bagged, which comes in handy for walk-behind spreaders and smaller spreaders like you find on UTVs, tailgates, and some skid steer models.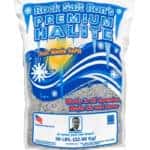 We carry Rock Salt Ron's Premium Halite in 50 lb bags.
At Snow & Ice Salt & Chemicals Unlimited, we have both solar and mined bulk salt available for pick up 24/7 at three locations in Maryland. Snow removal companies can pick up rock salt from Washington DC, Maryland, Virginia, Delaware, Pennsylvania and West Virginia so we make sure we are fully stocked at all times.
Are you too far away from Maryland? We can also ship pallets of bagged salt anywhere in the United States.
Our Rock Salt is from the USA
We carry Cargill Bulk Rock Salt is mined from a large salt deposit in Louisiana. The salt is removed then crushed, screened and brought to the surface where it is loaded directly into barges.
Rock Salt is nearly 100% Sodium Chloride, a low cost chemical that can be used to melt large areas of snow and ice effectively. The coarse screening makes the salt easy to spread quickly to keep your costs down.
Rock salt is the same thing as table salt, so it is perfectly safe to use, though we recommend only using the amount you need to remove the snow or ice from surfaces needing treatment. Rock salt will cause concrete and steel to degrade over time.
---
Rock Salt Lowest Effective Temp: 15°F
Contact Us About Rock Salt
[contact-form-7 id="25″ title="Contact form 1″]